A History of Innovation in the HVAC Industry
Established in 1983, Titan Air began providing direct-fired, make-up air units to the industrial painting and finishing market. In 1987, Titan Air diversified its product line and entered the HVAC market selling through manufacturer's representatives. Titan Air quickly excelled in both of these market areas and has become a widely respected leading manufacturer of heating, ventilation, and air conditioning equipment.
Titan Air has been an innovator rather than an imitator. Titan Air was the first manufacturer to obtain an ETL listing on direct-fired HVAC units utilizing a two speed motor, a Variable Frequency Drive (VFD), and a plate type energy recovery cell.
A Bright Future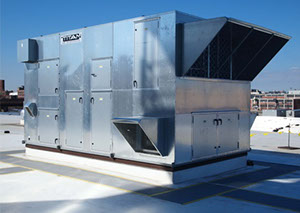 Throughout the years, Titan Air has held true to their small company values. As a socially and environmentally responsible company, Titan Air offers HVAC solutions that embrace new technologies.
Located in Osseo, Wisconsin (approximately two hours east of Minneapolis/St. Paul, Minnesota and 20 minutes south of Eau Claire, Wisconsin), Titan Air has a manufacturing area that is nearly 70,000 square feet and has land for future growth.
Titan Air pledges to continue product improvements and offerings through the use of customer input and new technologies that become available. As a valued customer, Titan Air realizes that you have come to expect nothing less.
Career Opportunities
If you are interested in building a career with our company in the production facility, please stop in between 8:00am and 4:30pm to complete our application process. Please contact zadnichekk@titan-air.com to inquire about positions in our office. Additional information can be found on our careers page.